Kuid Directorytrainz Forge
SG STEAM - Trainz Forge. Trainzforge.weebly.com Standard Gauge Steam Reskins An assortment of steam paint schemes from the golden years of railroading and beyond. For original files, find corresponding wheel arrangements at Subpar Productions. For 2-10-4 and 2-6-6-2 wheel arrangements, please see colorado71.webs.com. KUID Directory Trainz Forge. Trainz-forge.com Designing a Gamer's World. Note: This is a work in progress, and is not complete. Download Searchable PDF.
Kuid:458 Wilsons Mills & Mount Olive. These routes have TS12 built-in dependencies, that are not in T:ANE, so it will show missing dependencies. However, the built-in assets of TS12 are in progress to put in on the download station.
Our offerings extend from 1869 through 2019, focusing on the best that the steam and transitional eras had to offer. We are among the only content developers for Trainz that frequently model 1890s and early 1900s equipment.
| | | | | |
| --- | --- | --- | --- | --- |
| Home | Catalog | Auran DLS | MSTS | RailWorks |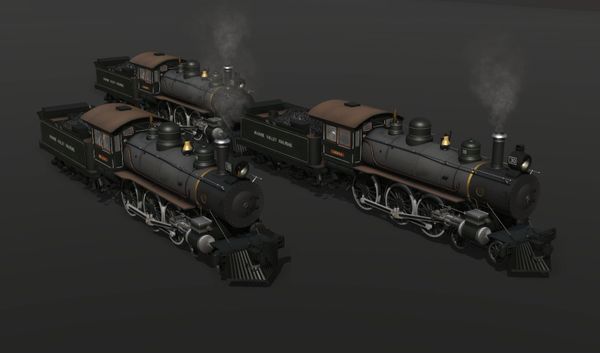 Trainz Kuid Download
| | |
| --- | --- |
| Railway | Atlantic Coast Line |
| Locomotive | EMD FTA |
| Author ID | Randall White (whitepass) |
| Identifier | kuid:58422:100275 |
| Source | www.trainzproroutes.org |
| Screenshot | Trainz 2006 |
| Medium Image | 500x800 |
| Large Image | 750x1200 |
| | |
| --- | --- |
| Railway | Atlantic Coast Line |
| Locomotive | EMD FTB |
| Author ID | Randall White (whitepass) |
| Identifier | kuid:58422:100276 |
| Source | www.trainzproroutes.org |
| Screenshot | Trainz 2006 |
| Medium Image | 500x800 |
| Large Image | 750x1200 |
| | |
| --- | --- |
| Railway | Bessemer & Lake Erie |
| Locomotive | EMD F7A |
| Author ID | n8phu |
| Identifier | kuid:473973:1382 |
| Source | www.theerectinghall.info |
| Screenshot | Trainz 2006 |
| Medium Image | 500x800 |
| Large Image | 750x1200 |
| | |
| --- | --- |
| Railway | Bessemer & Lake Erie |
| Locomotive | EMD F7B |
| Author ID | n8phu |
| Identifier | kuid:473973:1381 |
| Source | www.theerectinghall.info |
| Screenshot | Trainz 2006 |
| Medium Image | 500x800 |
| Large Image | 750x1200 |
| | |
| --- | --- |
| Railway | Bessemer & Lake Erie |
| Locomotive | EMD SD9 |
| Author ID | n8phu |
| Identifier | kuid:473973:1165 |
| Source | www.theerectinghall.info |
| Screenshot | Trainz 2006 |
| Medium Image | 500x800 |
| Large Image | 750x1200 |
| | |
| --- | --- |
| Railway | Boston & Maine |
| Locomotive | Alco RS-3 |
| Author ID | George Fisher (gfisher) |
| Identifier | kuid2:106916:100673:127 |
| Source | Trainz Download Station |
| Screenshot | Trainz 2006 |
| Medium Image | 500x800 |
| Large Image | 750x1200 |
| | |
| --- | --- |
| Railway | Boston & Maine |
| Locomotive | Alco RS-3 |
| Author ID | George Fisher (gfisher) |
| Identifier | kuid2:106916:100674:127 |
| Source | Trainz Download Station |
| Screenshot | Trainz 2006 |
| Medium Image | 500x800 |
| Large Image | 750x1200 |
| | |
| --- | --- |
| Railway | Boston & Maine |
| Locomotive | Alco RS-3 |
| Author ID | George Fisher (gfisher) |
| Identifier | kuid:106916:100675 |
| Source | Trainz Download Station |
| Screenshot | Trainz 2006 |
| Medium Image | 500x800 |
| Large Image | 750x1200 |
| | |
| --- | --- |
| Railway | Boston & Maine |
| Locomotive | EMD GP38-2 |
| Author ID | George Fisher (gfisher) |
| Identifier | kuid:106916:100800 |
| Source | Trainz Download Station |
| Screenshot | Trainz 2006 |
| Medium Image | 500x800 |
| Large Image | 750x1200 |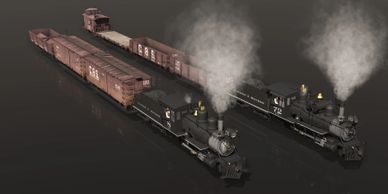 | | |
| --- | --- |
| Railway | California Northern |
| Locomotive | EMD GP38-2 |
| Author ID | Joe Ramos (joram24) |
| Identifier | kuid:138423:20029 |
| Source | Trainz Download Station |
| Screenshot | Trainz 2006 |
| Medium Image | 500x800 |
| Large Image | 750x1200 |
| | |
| --- | --- |
| Railway | CEFX |
| Locomotive | GE AC4400CW 1006 |
| Author ID | Mark Hoffman (gumbytrain) |
| Identifier | kuid:52779:115 |
| Source | www.protrainz.com |
| Screenshot | Trainz 2006 |
| Medium Image | 500x800 |
| Large Image | 750x1200 |
| | |
| --- | --- |
| Railway | Central of Georgia |
| Locomotive | EMD SD9 |
| Author ID | Ben Neal (bdaneal) |
| Identifier | kuid2:96914:9492:2 |
| Source | www.steammachine.com/bdaneal/ |
| Screenshot | Trainz 2006 |
| Medium Image | 500x800 |
| Large Image | 750x1200 |
| | |
| --- | --- |
| Railway | Central of New Jersey |
| Locomotive | Budd RDC-1 |
| Author ID | Jeff Barr (Magicland) |
| Identifier | kuid:58843:151 |
| Source | Trainz Download Station |
| Screenshot | Trainz 2006 |
| Medium Image | 500x800 |
| Large Image | 750x1200 |
| | |
| --- | --- |
| Railway | Central of New Jersey |
| Locomotive | EMD F7A |
| Author ID | n8phu |
| Identifier | kuid:473973:1007 |
| Source | www.theerectinghall.info |
| Screenshot | Trainz 2006 |
| Medium Image | 500x800 |
| Large Image | 750x1200 |
| | |
| --- | --- |
| Railway | Central of New Jersey |
| Locomotive | Fairbanks-Morse H24-66 |
| Author ID | Jeff Barr (Magicland) |
| Identifier | kuid:58843:173 |
| Source | Trainz Download Station |
| Screenshot | Trainz 2006 |
| Medium Image | 500x800 |
| Large Image | 750x1200 |
| | |
| --- | --- |
| Railway | Central Vermont |
| Locomotive | EMD GP9 |
| Author ID | Joe Ramos (joram24) |
| Identifier | kuid:138423:20039 |
| Source | Trainz Download Station |
| Screenshot | Trainz 2006 |
| Medium Image | 500x800 |
| Large Image | 750x1200 |
Trainz Kuid Land
| | |
| --- | --- |
| Railway | Chesapeake & Ohio |
| Locomotive | EMD F7A |
| Author ID | n8phu |
| Identifier | kuid:473973:1019 |
| Source | www.theerectinghall.info |
| Screenshot | Trainz 2006 |
| Medium Image | 500x800 |
| Large Image | 750x1200 |
| | |
| --- | --- |
| Railway | Chesapeake & Ohio |
| Locomotive | EMD F7A |
| Author ID | n8phu |
| Identifier | kuid:473973:1397 |
| Source | www.theerectinghall.info |
| Screenshot | Trainz 2006 |
| Medium Image | 500x800 |
| Large Image | 750x1200 |
| | |
| --- | --- |
| Railway | Chesapeake & Ohio |
| Locomotive | EMD F7B |
| Author ID | n8phu |
| Identifier | kuid:473973:1022 |
| Source | www.theerectinghall.info |
| Screenshot | Trainz 2006 |
| Medium Image | 500x800 |
| Large Image | 750x1200 |
| | |
| --- | --- |
| Railway | Chicago & Eastern Illinois |
| Locomotive | EMD F3A |
| Author ID | n8phu |
| Identifier | kuid:473973:1084 |
| Source | www.theerectinghall.info |
| Screenshot | Trainz 2006 |
| Medium Image | 500x800 |
| Large Image | 750x1200 |
| | |
| --- | --- |
| Railway | Chicago Burlington & Quincy |
| Locomotive | Budd Pioneer Zephyr |
| Author ID | landrvr1 |
| Identifier | kuid:45651:6 |
| Source | Trainz Download Station |
| Screenshot | Trainz 2006 |
| Medium Image | 500x800 |
| Large Image | 750x1200 |
| | |
| --- | --- |
| Railway | Chicago Burlington & Quincy |
| Locomotive | Budd Pioneer Zephyr |
| Author ID | landrvr1 |
| Identifier | kuid:45651:9 |
| Source | Trainz Download Station |
| Note | With mars light. |
| Screenshot | Trainz 2006 |
| Medium Image | 500x800 |
| Large Image | 750x1200 |
| | |
| --- | --- |
| Railway | Chicago Burlington & Quincy |
| Locomotive | EMD E5A |
| Author ID | landrvr1 |
| Identifier | kuid:45651:28 |
| Screenshot | Trainz 2006 |
| Medium Image | 500x800 |
| Large Image | 750x1200 |
| | |
| --- | --- |
| Railway | Chicago Burlington & Quincy |
| Locomotive | EMD E5B |
| Author ID | landrvr1 |
| Identifier | kuid:45651:29 |
| Screenshot | Trainz 2006 |
| Medium Image | 500x800 |
| Large Image | 750x1200 |
Trainz Kuid Finder
| | |
| --- | --- |
| Railway | Chicago Burlington & Quincy |
| Locomotive | EMD F7A 701-A |
| Author ID | Steffan Gross (sg1) |
| Identifier | kuid:35848:1001 |
| Source | www.virtual-motive-division.com |
| Screenshot | Trainz 2006 |
| Medium Image | 500x800 |
| Large Image | 750x1200 |
| | |
| --- | --- |
| Railway | Chicago Burlington & Quincy |
| Locomotive | EMD F7B |
| Author ID | Steffan Gross (sg1) |
| Identifier | kuid:35848:1003 |
| Source | www.virtual-motive-division.com |
| Screenshot | Trainz 2006 |
| Medium Image | 500x800 |
| Large Image | 750x1200 |
Trainz Kuid Search
| | |
| --- | --- |
| Railway | Clinchfield |
| Locomotive | EMD SD40 |
| Author ID | Shane Stewart (cnr) |
| Identifier | kuid:95761:1000 |
| Source | www.trainzproroutes.org |
| Screenshot | Trainz 2006 |
| Medium Image | 500x800 |
| Large Image | 750x1200 |
| | |
| --- | --- |
| Railway | Clinchfield |
| Locomotive | EMD SD40 |
| Author ID | Shane Stewart (cnr) |
| Identifier | kuid:95761:1001 |
| Source | www.trainzproroutes.org |
| Screenshot | Trainz 2006 |
| Medium Image | 500x800 |
| Large Image | 750x1200 |
| | |
| --- | --- |
| Railway | Clinchfield |
| Locomotive | EMD SW1500 |
| Author ID | Jeff Kerlee (jkerlee) |
| Identifier | kuid2:35815:350:2 |
| Source | Trainz Download Station |
| Screenshot | Trainz 2006 |
| Medium Image | 500x800 |
| Large Image | 750x1200 |
| | |
| --- | --- |
| Railway | Delaware & Hudson |
| Locomotive | Alco PA1 19 |
| Author ID | Randall White (whitepass) |
| Identifier | kuid2:58422:22:1 |
| Source | www.trainzproroutes.org |
| Screenshot | Trainz 2006 |
| Medium Image | 500x800 |
| Large Image | 750x1200 |
| | |
| --- | --- |
| Railway | Delaware & Hudson |
| Locomotive | Alco RS-11 5002 |
| Author ID | Randall White (whitepass) |
| Identifier | kuid:58422:100193 |
| Source | www.trainzproroutes.org |
| Screenshot | Trainz 2006 |
| Medium Image | 500x800 |
| Large Image | 750x1200 |
Trainz Kuid Index
| | |
| --- | --- |
| Railway | Delaware & Hudson |
| Locomotive | Baldwin RF-16 |
| Author ID | landrvr1 |
| Identifier | kuid:45651:13 |
| Screenshot | Trainz 2006 |
| Medium Image | 500x800 |
| Large Image | 750x1200 |
| | |
| --- | --- |
| Railway | Delaware Lackawanna & Western |
| Locomotive | Alco RS-3 |
| Author ID | George Fisher (gfisher) |
| Identifier | kuid:106916:100680 |
| Source | Trainz Download Station |
| Screenshot | Trainz 2006 |
| Medium Image | 500x800 |
| Large Image | 750x1200 |
| | |
| --- | --- |
| Railway | Delaware Lackawanna & Western |
| Locomotive | Fairbanks-Morse H24-66 655 |
| Author ID | Jeff Barr (Magicland) |
| Identifier | kuid:58843:197 |
| Source | Trainz Download Station |
| Screenshot | Trainz 2006 |
| Medium Image | 500x800 |
| Large Image | 750x1200 |
| | | | | |
| --- | --- | --- | --- | --- |
| Home | Catalog | Auran DLS | MSTS | RailWorks |